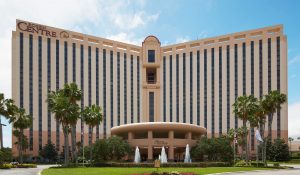 Rosen Centre Hotel

$169.00 Single or Double
9840 International Drive
Orlando, Florida 32819
(407) 996-9840
---
Hotel at a Glance:
Property Location
The distinct architecture of Rosen Centre rises high above the landscape; its two open wings welcome all travelers. The luxury hotel marks the center point of business, entertainment, and family fun. As our guest, your vantage point extends beyond the short walk to the Orange County Convention Center and the brief ride to world-class entertainment and the hub of Orlando travel. The true value is that you are the center of our focus. Designed around your comfort, our award-wining services and amenities create a stylish and sophisticated experience, one that is truly unforgettable. Hand-delivered to you is the Rosen DifferenceⓇ—personalized service delivered by staff emboldened by the freedom to exceed standard expectations. This is how the Rosen Centre stands alone in the middle of it all.
Rooms
Through the oversized window, light pours in casting a cool glow on crisp linens and the soothing, soft décor. From your vantage point are impressive views of the city, while back in the guestroom your peaceful oasis awaits.
All the comforts of home and key technology features punctuate the style and sophistication for which Rosen Centre® is known. The wall mounted 50" HDTV presents endless entertainment while the multi-outlet connectivity bar beneath keeps your devices charged and ready for the complimentary Wi-Fi. The interactive guestroom television system keeps you connected to your personal music and movie libraries and streaming services.
Amenities
Standard in all guestrooms are homelike amenities such as a mini-refrigerator, coffee maker, iron and iron board, and hairdryer. Pet-friendly and ADA compliant rooms are available. The fitness center is equipped with state-of-the-art cardio equipment, strength training and free weights to satisfy your workout needs. Cardio equipment includes treadmills, arc trainers, ellipticals and cardio bikes with screens and USB connections for your personal enjoyment. Fitness equipment includes free weight Smith machine, Cable Cross adjustable machine, circuit training machines, medicine balls, resistance balls and dumbbells of up to 100 lbs. Also, The Spa at Rosen Centre® offers a host of amenities to help awaken your senses. Select from massage therapy, body treatments, facials and skin treatments, hair, makeup, nail care or waxing. A la carte services and packages available
Dining & Entertainment
Rosen Centre® offers nine restaurants/ lounges offering cuisine from gourmet to deli fare.
Everglades Restaurant and Bar offers superb dining in a beautiful themed setting that captures the atmosphere of the Florida Everglades. Prime steak, fresh seafood and regional specialties are served in this fine dining establishment, and a quiet lounge is available for relaxing before or after dinner where guests can enjoy a drink while surrounded by the Everglades Bar's tropical aquarium.
Cafe Gauguin offers extensive buffets, as well as full-service menus for lunch and dinner in a casual dining atmosphere.
98Forty Tapas & Tequila offers sophisticated tapas-style dishes and an extensive selection of 40 premium tequilas. The menu is comprised of innovative appetizers featuring fresh, seasonal ingredients in a blend of Mexican and Spanish flavors that are perfect for sharing with colleagues and friends. Why the unusual name? It's a clever play on the hotel's address, 9840 International Drive.
Banshoo Sushi with bar seating for six and a communal table for 12, featuring a creative selection of specialty sushi rolls, fresh sashimi and inventive signature seafood dishes as well as distinct cocktails, wines and sake in a casual atmosphere. Menu available in Sam & Bubbe's™ Lobby Bar & Lounge, Everglades and other dining outlets. Guests can place orders and pick up at the bar.
Red's Deli serves New York flavor, snacks, baked goods, and convenience items 24 hours a day.
Sam & Bubbe's™ Lobby Bar & Lounge is a great lounge for a laid-back night of relishing traditional Jewish noshes, savoring your favorite drink, and enjoying conversations with friends.
Smoooth Java proudly serves gourmet coffees along with a variety of fresh muffins, pastries and desserts.
Harry's Poolside Bar & Grill Escape into a tropical atmosphere where you can kick back, relax, and enjoy the flavors of Cuban-Caribbean cuisine at Harry's Poolside Bar & Grill. From mojito-glazed salmon and conch fritters to mango crab cakes and grapefruit and habanero NY sirloin, Harry's Poolside Bar & Grill is an oasis for your appetite.
Prompt and convenient room service is also available 17 hours daily.
Recreation
The Spa at Rosen Centre® offers seven treatment rooms and a complete array of massages, body treatments and facials and full-service beauty salon
24-hour fitness center featuring new Paramount XL circuit training machines
Expansive tropical swimming pool
2 Whirlpools
Golf, group outings and tournament capabilities at the nearby 18-hole, championship Shingle Creek Golf Club and Brad Brewer Golf Academy—Guests receive preferred tee times and complimentary transportation